■ Casting process: 3t/AOD argon-oxygen refining furnace, 0.75t~2.5t medium frequency induction furnace, cast steel 10t/h resin sand production line, cast iron 20t/h resin sand production line, 4×3×2.4m natural gas heat treatment furnace, trolley type High temperature resistance furnace, 5t double hook fine polishing / rough polishing machine...
■ AOD (argon-oxygen decarburization) refining process and intelligent control system: AOD is an advanced process for producing ultra-low carbon stainless steel and pure high-quality alloy steel castings. It has the advantages of high production efficiency, accurate composition control, etc. The products produced are excellent. Mechanical and process properties. It can use high carbon ferrochrome alloy, various kinds of recycled materials and other raw materials to smelt various grades of cast steel such as 304 and 316L, and the smelting loss of various alloys is also small; compared with conventional electric furnace smelting, smelting of steel per ton of steel The consumption can be reduced by 150~200kW/h.
■ Medium frequency induction furnace and its power sharing power system: The medium frequency electric furnace produced by well-known domestic manufacturers replaces the traditional power frequency electric furnace. The electrical efficiency of the induction coil and the total efficiency of the electric furnace are close to the advanced level in foreign countries. Electric furnace control system realizes full digital integrated circuit non-contact control, frequency automatic tracking, voltage and current double closed loop regulation; high power density, no power pollution, energy saving and high efficiency; advanced temperature control technology, no need to manually judge temperature and multiple times Temperature measurement, melting process is automatically controlled by software; electromagnetic metering, feeding car has automatic, semi-automatic and manual feeding function; on-site melting dust collection rate of more than 90%, efflux ≤ 50mg / m3, in line with national labor health and environmental standards.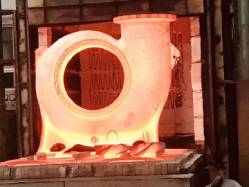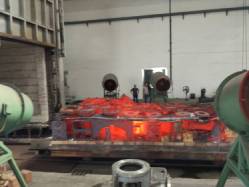 ■ Double hook shot blasting system: Shot blasting technology is one of the advanced processes for surface cleaning, strengthening, glazing and deburring of various machine parts in the world. The equipment is mainly made up of blasting machine and resistant. Grinding rubber ring belt, auger, lifting, separator, feed conveying, dust collector, electrical appliances. No pit structure, small investment, anti-corrosion; double hook design, one hook in work, another hook in the outdoor loading and unloading workpiece, high productivity; international advanced cantilever centrifugal toss with large shot throwing speed and high throwing speed The pellets have a good cleaning effect and greatly improve the service life and aesthetics of the parts.